The Making of a Promo Card
Hi Readers! Welcome to my very first blog post on my shiny new website.
I'm one of those people that is obsessively seeking to learn. In that vein, last year I did an extended education online program called Project 52 Pros. It's all about the challenge of learning the business and photography techniques that make for a successful commercial photographer. We had weekly assignments, each assignment being progressively more of a challenge and designed to help us narrow down our niche, as well as broaden our skills to be able to handle most of what we might be hired to do. We hung out weekly on webinars and had our work critiqued by a master photographer in the form of Donald Giannatti.
We classmates chatted together on Facebook all year long, critiqued each other's work, supported each other in marketing strategies and ideas, gave each other encouragement, became a community. At the end of the year, 15 of us gathered in Phoenix, AZ to travel with Don for a week on the road in one of the most beautiful places on Earth, northern Arizona and Southern Utah, Bryce, Zion, Antelope Canyon, Horseshoe Bend, The Grand Canyon…God's Country. They call it that because after being there for a week, when you leave, you realize that you were walking through a religious experience.
The trip was off to a rocky start when the very first thing that happened was that I went into the loo, started to drop my pants and cringed loudly when I heard the sound of a phone dropping into the water. Phones don't appreciate this kind of treatment it seems. It powered itself off, and I in a panic, tried to power it back on. That's when I killed it. The red screen of death appeared and then the screen sputtered and coughed and then it just turned black. There was not going to be a replacement, since I was on a road trip, and so I had a break from the addiction. You know the one I mean…
I also lost my jacket, the one that had my house and car keys in the pocket. Yeah. Now these kinds of things don't usually happen to me, I am not THAT blonde. I used to be, but now it's getting grey, I would hope I've learned a thing or two by now (hangs head in shame)… Anyway, I think it was Mercury in Retrograde, which I really don't buy into that kind of thing, but since it was happening I can at least blame that.
But Anyway, The Road Trip!
So we headed out onto the open road in two white vans for a great adventure. We sang, we talked about photography, we laughed and told jokes, we bonded for life. We made thousands of beautiful pictures between us. My landscape gallery has a few of mine.
We went out to shoot icons. Who would imagine there would be a line for getting the iconic long lonely highway shot?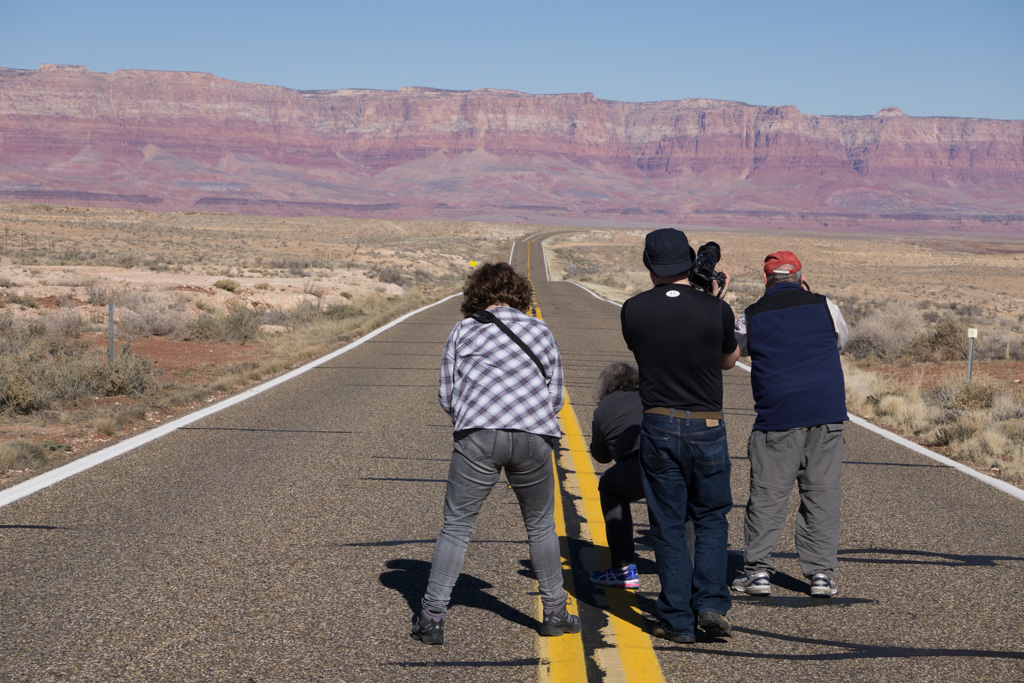 The Winged Dancer & The Paparazzi
Meet Briana Austin, or Bri as she is fondly called. Bri is a model and a dancer. She's pretty much Don's cover photo girl, she's on all his Lighting Essentials books.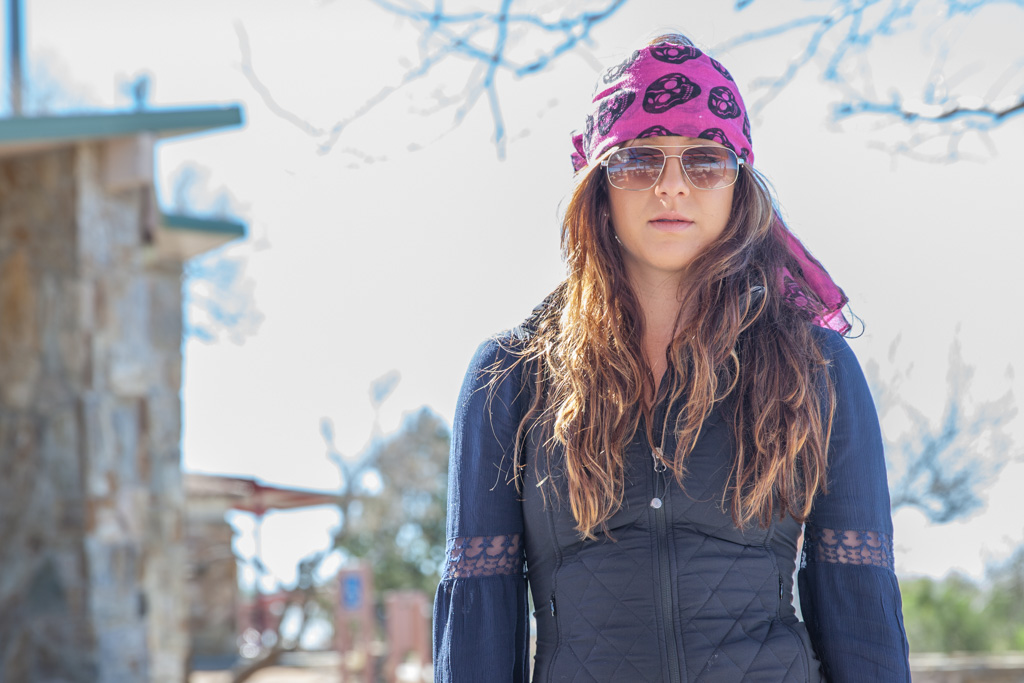 Bri came with us and agreed to be the lamb amongst wolves. Do you ever feel shy in front of a camera? Imagine having 15 pointed at you at once. Trying to figure out who to look at, glancing around at everyone trying to give every photog a chance to capture your gaze. It's intimidating as hell. But Bri handled it like the pro that she is.
I first saw Bri on Creative Live years ago when I tuned in to Don's Subject Centric Lighting Course and she was on hand as the main model for the workshop. Watching photographers get shots of Bri jumping made me want to shoot jump shots all day long. Jumps and hair flips. Freezing the awesomeness…it's a thing to love, and I do.
Fast forward three years and there I was on the road as a part of 15 paparazzi who got to shoot her jumping for a whole week! That's when I learned she has invisible wings.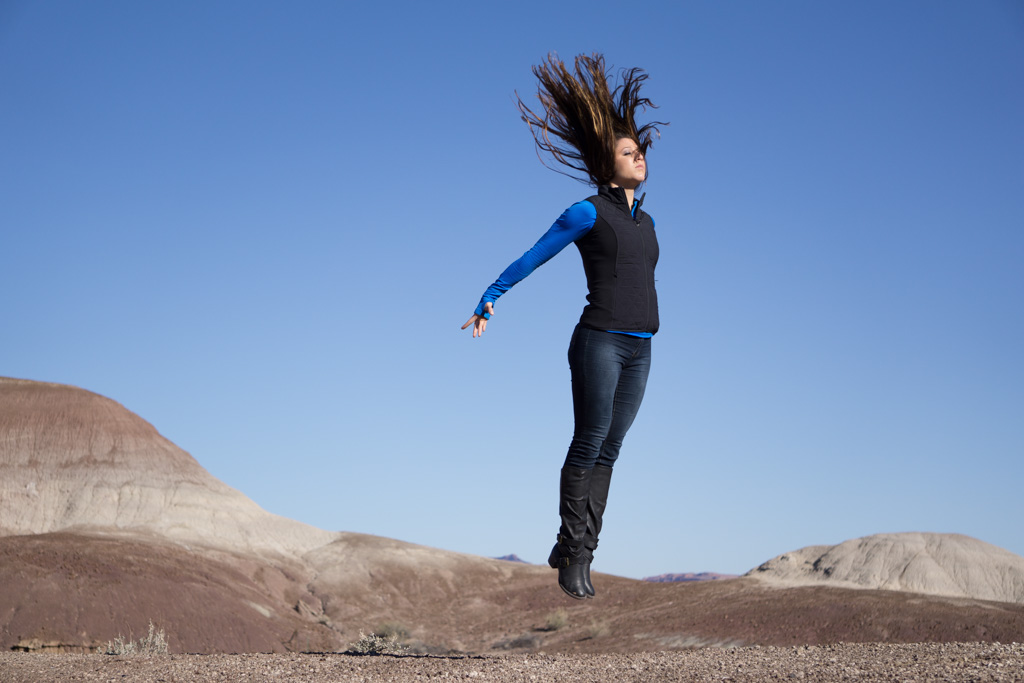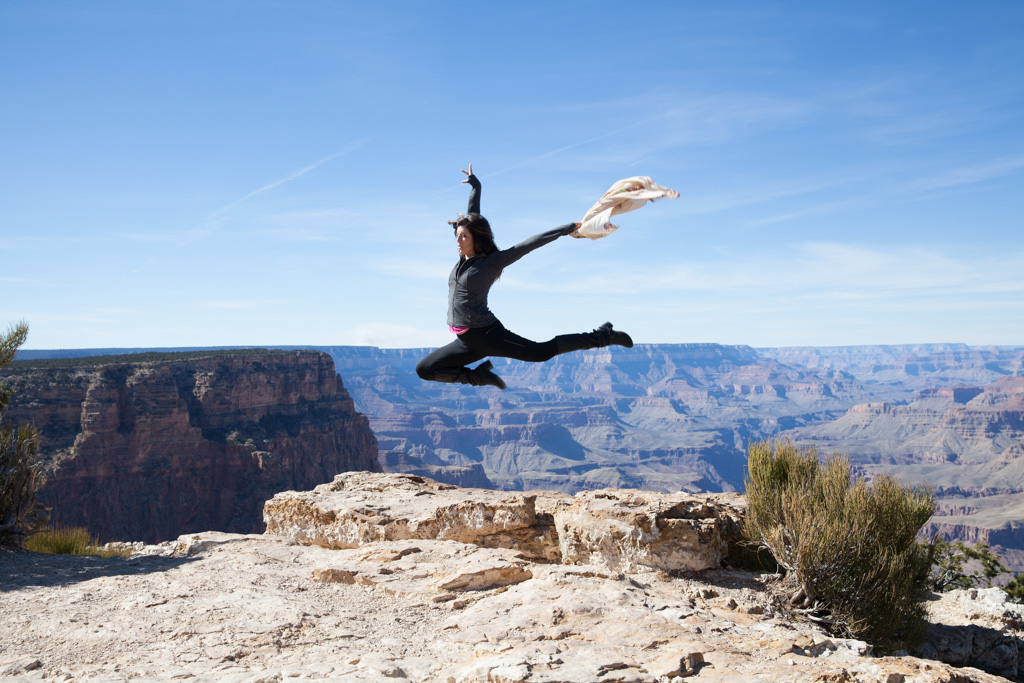 You need to have a really fast shutter speed if you want to completely freeze the motion. One time I was shooting her jumping and I failed to have my shutter speed set correctly. The result was Bri floating and melting into the reeds on the other side of the river. It looks kind of cool, in an arty kind of way…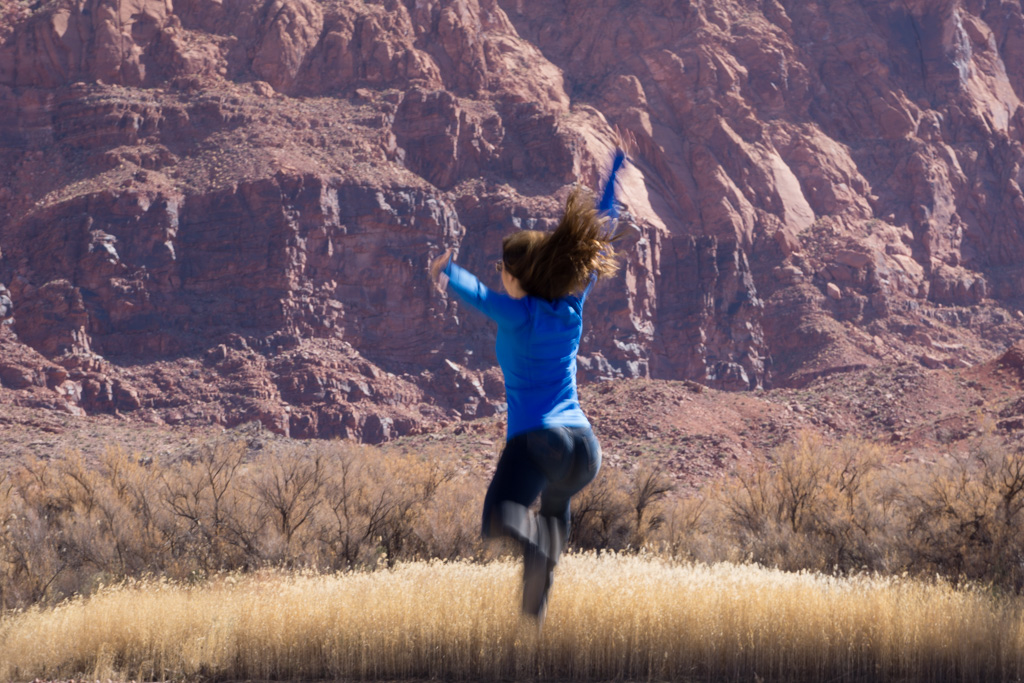 I was also fortunate to grab a few peaceful moments with Bri where she did not jump, but just sat there being her lovely self. Loved the color of light reflecting off the walls of the canyon across the river. Red and golden canyony goodness. You can't help but glow in that kind of light.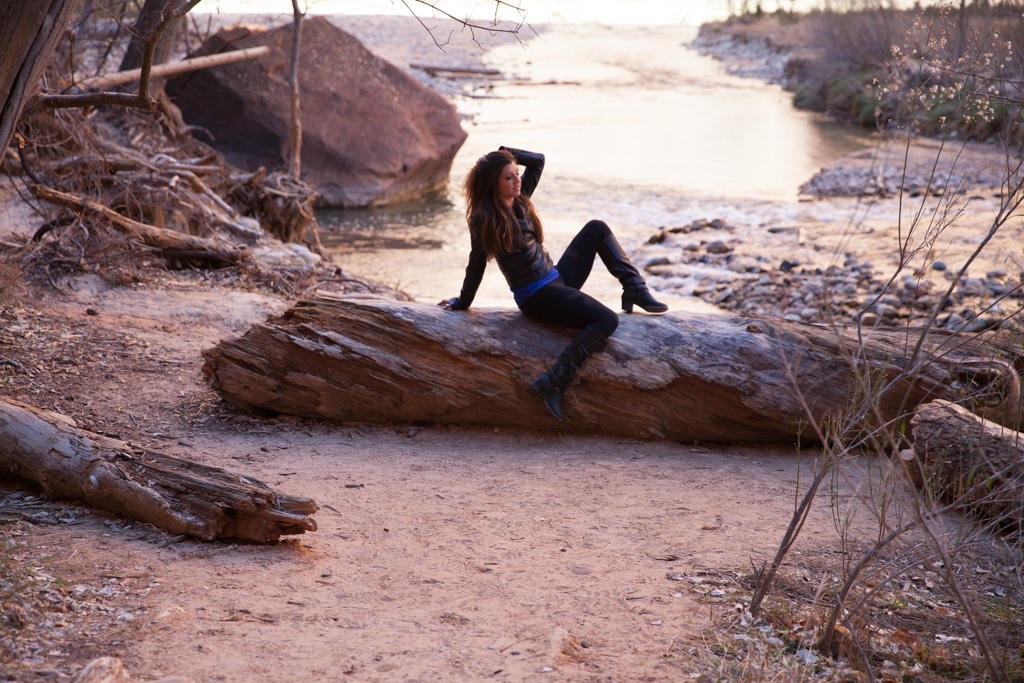 And there must be a hair flip. No photo session is complete without one.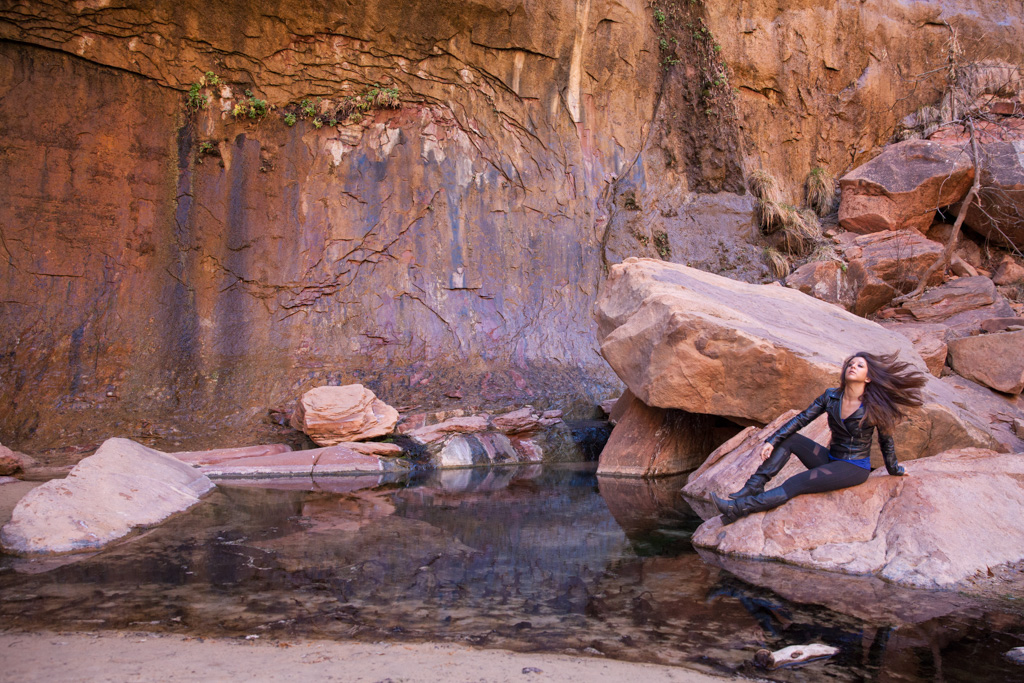 The best shot I captured of Bri jumping is the one I am currently using as my promo cover card. Bri on the edge of the Grand Canyon doing both a jump and a hair flip at the same time. It was the very last day and I got her away from the paparazzi and had her all to myself to get this jump. It's fun being part of the paparazzi and all, but not as fun as one on one shooting time with someone. Especially someone who has wings and can defy gravity on the edge of the Grand Canyon! Photography heaven. Seriously.
On the promo card, I branded her with my colors. She was wearing a pink shirt, I turned it orange to go with my logo. I made it black and white bringing the focus to Bri. This picture looks like how I feel on the inside when I accomplish something I've worked hard to achieve. I want you to feel that way! Work hard, be awesome, I want to be there to document it for you.
Welcome to my new website and journal! I hope I can keep you mildly entertained while introducing you to lots of people and maybe providing a tip or two along the way! More on wonderful friends I met on the Southwest trip coming in another post. I will link to it here when it is live.

PS, Thank you Bri, for being amazing and for the opportunity to capture a tiny piece of that!